We thought about coming up with a cool title for this Monday morning post but…
1. It's cloudy out.
2. It's Monday.
3, There are only 3 spots left for Part One of Jillian Pransky's 2 Day VibeWell Immersion! on October 26 (Inlet Yoga) and October 27 (Asbury Park at the Festival). We can absolutely still promise you room in Jillian's class on the 27th with us in the Asbury Lanes, but if you want to spend some major quality time with this woman over the course of your VibeWell weekend, you need to book one of the last three spots NOW.
Last year – our first VibeWell ever – was an epic day of transformational learning, laughter, awakening, connecting, self-love, self-care, community building, and YOGA (which is really all of those things and more, right?).
As we stepped toward year 2, we put a major dream out into the world:
How can VibeWell begin to grow towards a 2 (or 3, or 4) day festival?
The Jillian Pransky 2-Day Immersion was our exciting, amazing, unbelievably special dream, so we reached out to Jillian and our tribe at Inlet Yoga and asked a new question:
Can we get this done? Will you do it with us?
Luckily, Jillian and Jen said YES.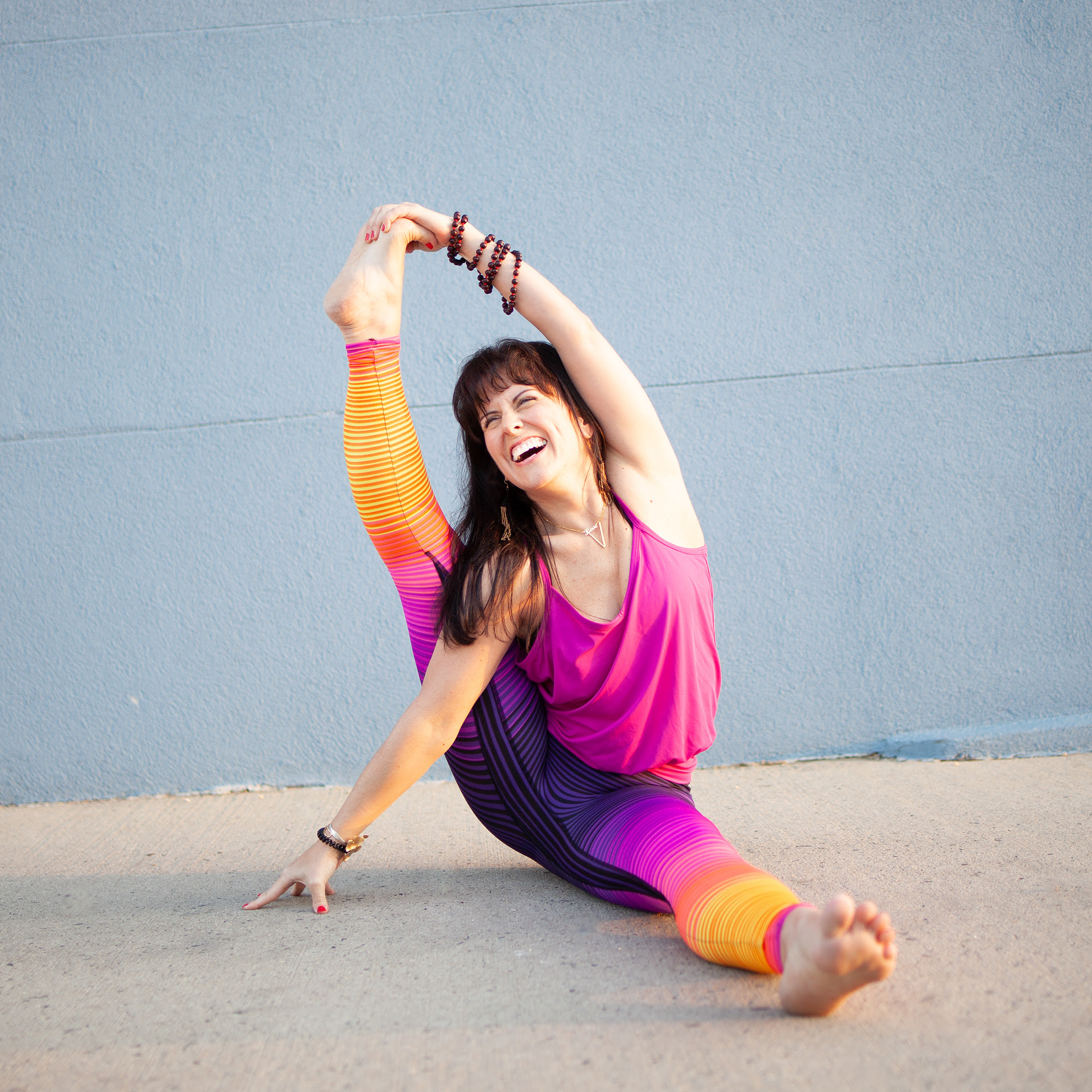 The plan grew from there and we love sharing the details with you, so let's just run through them here.
Mindful Flow. Maximal Relaxation. Minimal Props.
A MINI-Retreat and Restorative Yoga With Minimal Props workshop on October 26th at Inlet Yoga in Manasquan
Join Jillian Pransky for this powerful restorative experience and learn how to bring it home with you.
Begin the day with a wonderfully crafted series of mindful slow yoga, meditation, simple restorative poses, and a deep relaxation that will calm your body, clear your mind, and open your heart. In the second segment of your workshop Jillian will share how to bring this practice home and how you can share it with others.
You will learn the fundamental science and theory behind restoratives, propping, and alignment when working with 1-2 props. Jillian will demonstrate dozens of ways to set up 8 essential poses and you will experience many of the variations.
You will be amazed by the significant support you can receive from so little and you will leave with a new bag of tricks to incorporate into your flow practice, meditation, or restorative sessions without pulling out a pile of props.
This workshop is open to all and will be especially useful for yoga teachers, pilates teachers, bodyworkers, physical therapist and caretakers for all kinds.
Aligning with the Rhythm and Wisdom of Autumn with Jillian and Scott E. Moore
Centered, clear, and connected on October 27 at VibeWell in Asbury Park
Come join Jillian to harness the season's transformational energy.
Autumn brings us both change and reconnection; good-bye and hello; transition and transformation. It is an essential time to pause, as we flow between the expansion of summer and contraction of winter. To fortify our inner resources, like a tree pulling in sap.
Weaving together mindful chakra-flow yoga, mantra, restoratives, meditation and essential teachings from her new book, Deep Listening, Jillian will guide you to release blocked energy, surrender layers of deeply held tension, and nurture your capacity for greater joy, compassion, insight, and connectedness.
You will finish feeling clear, connected, inspired, and deeply nourished. Ready to harness this season's transformation energy!
This class will feature live music from Scott E. Moore, who will support our trip through the chakras with a blend of modern ambient beauty and sultry rhythm and blues.
Want one of the last three spots for the 2 Day Jillian VibeWell experience? Do NOT wait! This truly is the moment to say YES!
Oh! And one more special thing…
Want to win your VibeWell All-Access, Full-Day Pass for the 27th? Enter here with Vanessa!
Never Miss a Post!
The Top Three Reasons for Joining NJYC
The greatest teachers, studios, classes and communities are in the Garden State.
You are ready to inspire and be inspired.
You believe in living a life you love, supported by a practice that makes you feel amazing