"Yoga" is way more than sun salutations, standing poses, and savasana (that being said, we are pretty sure that there is absolutely no substitute for the deep relaxation, peace, unity, acceptance, release, and rejuvenation of a delicious savasana).
Yoga is an 8 limbed practice and, as yogis, we have a responsibility to continue moving, breathing, and living mindfully long after the vinyasa flow has ended.
So what are the 8 limbs, you ask?
The eight limbs of yoga are from Patanjail's Yoga Sutra, which many consider to be the book of books (think "yoga bible") for practitioners.
The yoga sutras are a collection of 196 ancient aphorisms. An Indian sage called Patanjali wrote the yoga sutras in the second century BCE…[his] Yoga Sutras contain a description of the eightfold path – guidelines on how to live a meaningful and purposeful life.
The NJYC spends A LOT of time offering up great places, spaces, events, trainings, immersions, and workshops where you absolutely can learn and grow. And yet, we haven't done enough (we think) to connect the dots between the 8 Limbs and what's possible in our location community.
So let's change that now. Here are the 8 Limbs, and our recommendations!
Yama
There are a total of five yamas that comprise the first limb of yoga: non-violence, truthfulness, non-stealing, non-excess, and non-covetousness. They are the cornerstones for living with integrity, honesty, and authenticity.
So where can you Yama? We recommend checking out Elevate Yoga's upcoming workshop on the intersection of Yoga & Social Justice. Stephanie Barrios-Cullins, RYT-500 and Social Activist, is presenting on September 7, 2019, with a focus on understanding our privilege and how it shows up in our yoga classes.
Niyama
The second limb, Niyama, is about self-discipline. The five niyamas are purity of the mind, contentment, self-discipline, self-reflection, and devotion to God.
When thinking of the Niyamas, the first person who always comes to mind is Stephanie Moore.
Stephanie is a talented, reputable Spiritual Psychotherapist, Life Coach, Reiki Master/Teacher, Physical and Energy Body Worker, Reflexologist, Fire Cupping Therapist and Yoga Teacher who offers unique and individualized treatments. Paired with her degree in Psychology and 15 years experience, she has helped hundreds of people deal with areas in their lives where they are feeling stuck or stagnant and helps them move through feelings such as abandonment, betrayal, lack of self worth and unforgiveness. She believes that once we deal with the subconscious programming and negative self talk and parts of our selves that we deny or dismiss, the parts that keep us trapped in our mind— once we heal the body with energy and align with our truest selves, we can then and only then  find the freedom to live a joyful, powerful, brave and love centered life. It is why she called her Mind Body and Spirit in Balance. 
Stephanie is offering an incredible workshop at the VibeWell Festival: Deep Dive – How to find Divine Self-Love and Healing.
Here's what you can expect when you join us on October 27th at the Danny Clinch Gallery: focusing on putting ourselves first and getting clear on what we really want in order to do that. The ways of finding out what is truly holding us back from moving towards our self evolution. How to find and embrace divine self love through radical acceptance, and, finally, a meditation on how to find your true desires, those that set your soul on fire. 
Asana
You've got this one, right?! But here's the thing – you can transform your yogic movements by taking them into a new element. We recommend trying yoga outside, with nature as your "studio". Find out what's SUP and paddle your practice, or cuddle goats while you down dog on a farm.
No time this summer? Book a retreat and BREATHE into something new. Check out Satsang Yoga's Fall Retreat to Heathen Hill.In this retreat we will take the time to explore, dive deeper and find both strength and serenity in b‬ody, mind and spirit. Discover the mystery and magic that practice provides. Discover why "The Hill" is the perfect place for that alchemy. Letting go of unnecessary tension takes time. Letting go of feelings and thoughts that are no longer necessary takes time. Building strength, confidence, and flexibility takes time. Getting to know yourself takes time. Your practice provides you with the with time. Treat yourself. ‬ All meals included, too!
Pranayama
Pranayama is the practice of breath, which is thought to be our life-force. Taking deep, focused, and rhythmic inhalations and exhalations are a practice of pranayama. There are also specific breathing techniques that we often learn on the mat, that can help us to engage, detoxify, heat, cool, and/or connect body, mind, and spirit.
There is no shortage of breath work in the asana practice, but it doesn't have to stop there. Try a walking meditation by joining the Bergen Passaic Heart Walk on October 6, 2019 at Campus of Express Scripts, 100 Parsons Pond Road, Franklin Lakes NJ 07417.
In the words of Regan DeBenedetto, "After losing my father to heart disease at eighteen years old, I committed myself to a life that would always include wellness and philanthropy. I developed a love of running- my first exposure to 'moving meditation' and began fundraising for the American Heart Association through marathons. These runs and fundraising campaigns served as a way to honor my father while giving back. This year I am honored to hold the position of Chairperson for the Bergen Passaic Heart Walk. We aim to raise $125,000 through this event. Teaming up with AHA has added purpose to my daily life and helped me to continually live my yoga bringing the mind, body and spiritual connection to those around me."
Pratyahara
The fifth limb of yoga is about shifting your focus away from the tornado of chaos that constantly swirls around us. With so much going on in the world, and such an intense hyper-focus on what's well beyond our truest selves a la social media and a 24 hour news cycle, it's undoubtedly difficult to turn inward – but we need to make the commitment.
So what can you do? Sign up for something experiential and TURN. OFF. YOUR. PHONE.
Ditch the idea that "if I don't instagram it, it didn't happen" and give yourself the gift of presence.
Our favorite unicorn, Serena Soffer, is currently working on a project called "A Little Musical Night", happening on August 2, 2019 at the Asbury Hotel. "A Little Musical Night" is a benefit concert for the Asbury Park Theater Company, hosted by Emmy and Golden Globe-winning TV, Film & Broadway Actress Sally Struthers featuring musical performances by Broadway's Carter Calvert, James Alexander and Jim Newman.
Turn off your reaction to texts, calls, videos, articles, and "likes". Spend a night being MOVED by sound and spirit.
Dharana
The sixth limb of yoga can be best explained as concentration and eliminating mental chatter.
Dharana is the ability to focus in on one point (and no, we don't just mean picking a speck on the wall to hone in on while you balance in Warrior 3). This is MEDITATION.
One of the most often repeated phrases in our many years of teaching and NJYC-ing is this: "I can't meditate."
We get it. We were there at one point too. And we know how to get you unstuck. Try the Sound Bath Meditation class at Honor Yoga North Brunswick:
A "Sound Bath Meditation" is all about energy, frequency & vibration. It is a very therapeutic form of meditation because you're literally being "bathed" in sound waves. As these sound wave energies wash over your body, they can move the brain from the beta and into an alpha & theta brainwave state.
Grab a bolster, blanket and eye pillow. Start in a restorative posture as the sound vibrations help to shift your brain into a calmer state allowing you the opportunity to experience a deeper meditation which can lead you to profound relaxation & healing.
Dhyana
Maybe we will just call this one "meditation plus".

Dhyana is the 7th limb of yoga, building upon asana (physical posture), pranayama (breath control), pratyahara (control of the senses, moving the focus to the inside), and dharana (concentration). The word dhyana comes from the Sanskrit word dhyai, which means "to think of."

Dhyana involves concentration and meditation on a point of focus with the intention of knowing the truth about it. This deeper concentration of the mind is the instrument of self-knowledge where one can separate illusion from reality, and eventually, reach the ultimate goal of yoga: samadhi (bliss, or union with the source).

– Kaisa Kapanen for Do You Yoga
How can you start? Where can you start? We recommend April Puciata's website, Beyond OM, as well as her presentation with Bridget Lyons at VibeWell on October 27, 2019 in the Danny Clinch Gallery:
Good Vibrations: Tantric Meditation and Sound Healing Experience: Stillness is where the healing begins. Sound has the ability to positively affect our whole being. Join April Puciata and Bridget Lyons as they come together to create this incredibly special opening experience which will elevate your vibration and allow you to find a deep sense of connectedness. Together, they will utilize ancient meditation techniques in conjunction with sound healing to rejuvenate the system and bring the mind into to a clearer and calmer state. This guided meditation, infused with pranayama, Kriya and a visualization, will be enhanced with sounds and vibrations of the crystal singing bowls, crystal pyramid, drums, chimes and other healing instruments.  Together April and Bridget will help quiet the chatter, welcome the present moment, and allow you to tune into your own divine essence. You'll leave feeling inspired, grounded, and connected as a community.

Samadhi
Patanjali explains that Samadhi is a state of meditative absorption, attained by the practice of Dharana (focused attention) and Dhyana (effortless meditation) when the True Essential Nature is known, without the distortion of the mind. It can be thought of as the culmination of your meditation process.

Samadhi is the mind in its most concentrated state and can be compared to normal thought as a laser beam can be compared to normal light. The awareness of the meditator, process of meditation, and the object of your meditation have all merged into one. From knowledge, you have become knowingness.

The mind in Samadhi possesses power that a normal mind does not, making it the main tool the Yogi uses to achieve the end goal of yoga—the joining of the individual self with the Universal Absolute.
So how do we get THERE!?
Tough question. Our best answer? Notice your joy…and do savasana, a lot. Never, ever skimp on savasana. We love sinking into stillness during yin and restorative classes, especially when Jillian Pransky is guiding us.
If you haven't checked out Jillian's plans for October 26 and 27, do it now; she'll be with us for a full VibeWell weekend, starting at Inlet Yoga on the 26th for a 4 hour immersion and wrapping up at the Asbury Hotel on October 27th as a part of our full festival experience.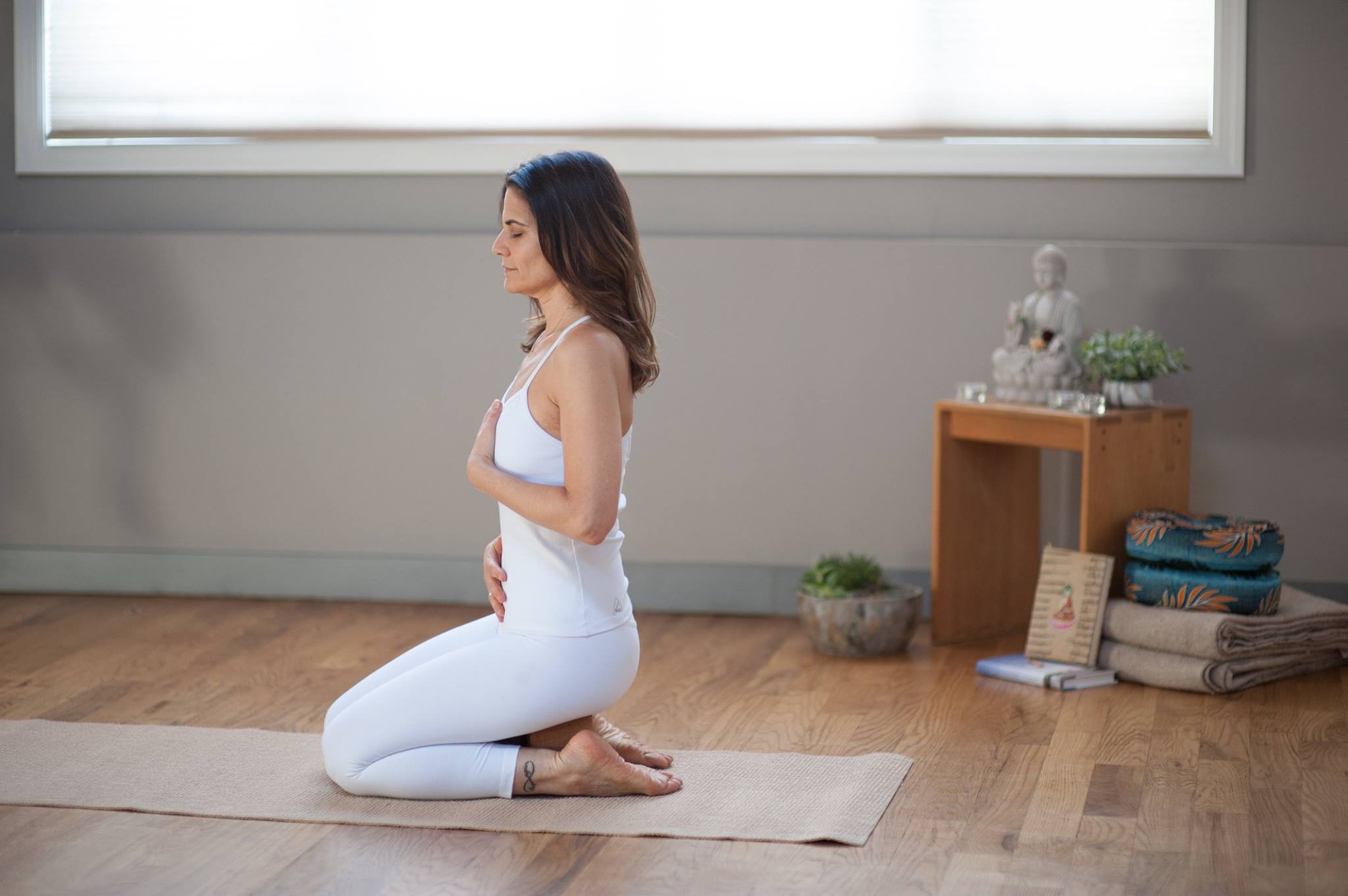 A Mini-Retreat and Restorative Yoga With Minimal Props workshop.
Join Jillian Pransky for this powerful restorative experience and learn how to bring it home with you.
You'll enjoy a 2 hour Mini Retreat followed by a 2-hour workshop to bring this practice home with you.
Begin the day with a wonderfully crafted series of mindful slow yoga, meditation, simple restorative poses, and a deep relaxation that will calm your body, clear your mind, and open your heart. In the second segment of your workshop Jillian will share how to bring this practice home and how you can share it with others.
You will learn the fundamental science and theory behind restoratives, propping, and alignment when working with 1-2 props. Jillian will demonstrate dozens of ways to set up 8 essential poses and you will experience many of the variations.
You will be amazed by the significant support you can receive from so little and you will leave with a new bag of tricks to incorporate into your flow practice, meditation, or restorative sessions without pulling out a pile of props.
This workshop is open to all and will be especially useful for yoga teachers, pilates teachers, body workers, physical therapist and caretakers for all kinds.
Centered, clear, and connected.
Come join Jillian to harness the season's transformational energy.
Autumn brings us both change and reconnection; good-bye and hello; transition and transformation. It is essential time to pause, as we flow between the expansion of summer and contraction of winter. To fortify our inner resources, like a tree pulling in sap.
Weaving together mindful chakra-flow yoga, mantra, restoratives, meditation and essential teachings from her new book, Deep Listening, Jillian will guide you to release blocked energy, surrender layers of deeply held tension, and nurture your capacity for greater joy, compassion, insight, and connectedness.
You will finish feeling clear, connected, inspired, and deeply nourished. Ready to harness this season's transformation energy!
This class will feature live music from Scott E. Moore, who will support our trip through the chakras with a blend of modern ambient beauty and sultry rhythm and blues.
Never Miss a Post!
The Top Three Reasons for Joining NJYC
The greatest teachers, studios, classes and communities are in the Garden State.
You are ready to inspire and be inspired.
You believe in living a life you love, supported by a practice that makes you feel amazing