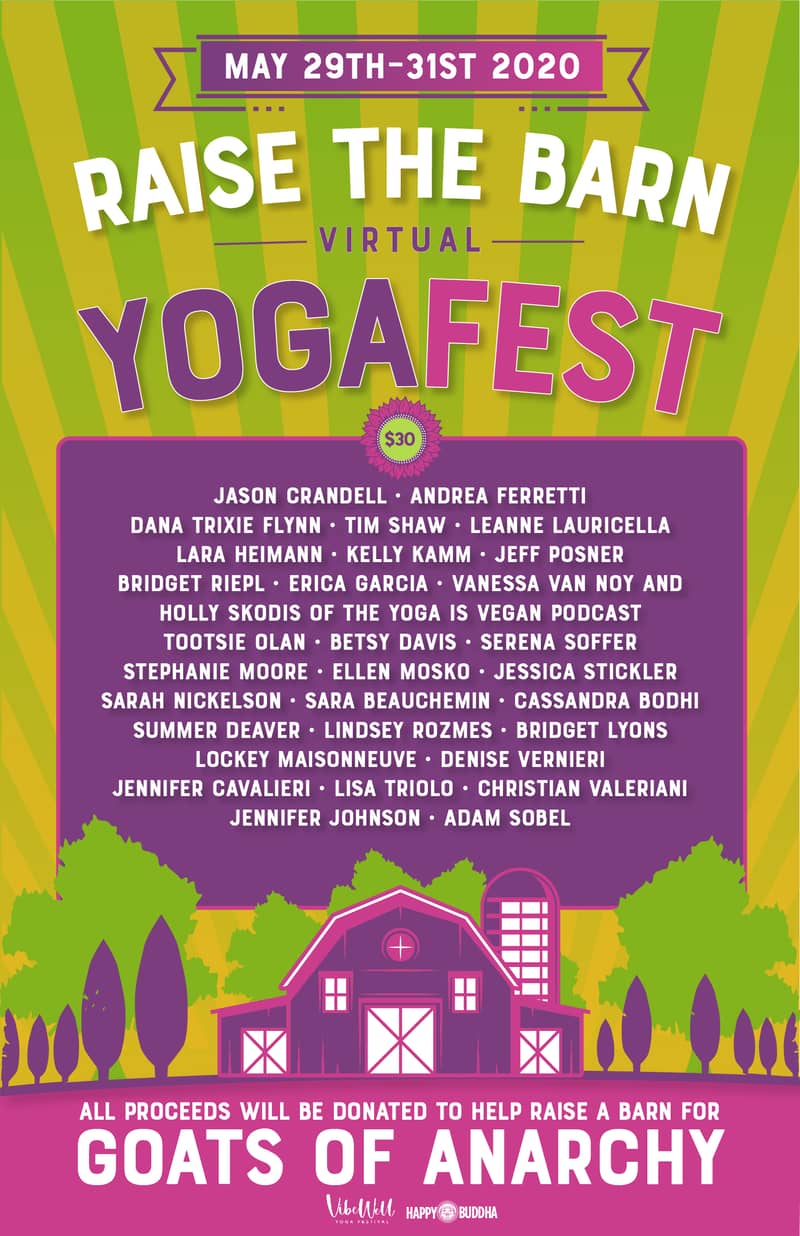 ​
Join us for a 3 Day VIRTUAL Yoga Fest, benefitting Goats of Anarchy. It's time to raise our collective vibration and RAISE A BARN for animals in need.​
ALL proceeds from this incredible virtual festival will be donated to Goats of Anarchy, to help them raise a barn at their animal sanctuary in Hunterdon County, NJ. Please read below for more info on them!
The beauty of this unique gathering is that there are no wristbands, lines, or creating the "perfect" schedule.
We are bringing you abundantly flowing classes, meditations, talks, and healing experiences with some of the most incredible teachers in the world. You can connect from ANYWHERE and, because we are using a private Facebook group to livestream, you'll have access to these offerings for as long as you stay on social media. You can head back into the group and take (or re-take) them all!
An All-Access Pass to 30+ classes, talks, meditations, and healing experiences over the course of 3 days, with some of the most inspiring yoga teachers, thought leaders, and luminaries in the world (NJ and beyond!)
THE LINEUP:
Vanessa Van Noy and Holly Skodis of the Yoga is Vegan Podcast
Jennifer Johnson
Schedule, bios, and class/talk descriptions coming soon – remember, you can head back into the group and take any of these classes again at ANY time. We are also making a few classes available via ZOOM and FB Livestream, just in case you aren't on Facebook!). This Fest is yours LIVE and forever thereafter!
RAISE THE BARN YOGA FEST is brought to you by the NJ Yoga Collective, VibeWell Yoga Festivals, and Happy Buddha, with BIG thanks to our graphics guru, Michele Fulton. We also want to send major love to Tim Shaw, who introduced us to GOA and came to Bridget with ONE question: "How can we help GOA to save lives?"
This was our answer. We hope you will join in, share with studios, students, friends, and family, and encourage businesses to jump on board as a sponsor for this VIRTUAL festival.
Goats of Anarchy has outgrown their current barns! Until they can build a new space for our sheep and alpaca (or as GOA likes to call them, "shalpaca") friends, they are absolutely full. GOA has to turn away animals in need every. single. day. And that has to stop. We MUST help GOA raise a barn!
Goats of Anarchy is a vegan farm sanctuary with a focus on special needs goats. They rescue and rehabilitate animals who are sick, injured, abused, blind, broken, missing limbs, or have other disabilities, and give them a forever home. Rescuing animals with special needs is very emotional, very expensive and very rewarding. GOA is so happy to share their stories and include you all in their journeys of growth and healing and they could not do it without US. GOA is a registered 501c3 charity, and all tax-deductible donations go toward medical bills, prostheses, food and care for the animals.​
Never Miss a Post!
The Top Three Reasons for Joining NJYC
The greatest teachers, studios, classes and communities are in the Garden State.
You are ready to inspire and be inspired.
You believe in living a life you love, supported by a practice that makes you feel amazing